What were your favourite books of 2016? Here are some of mine …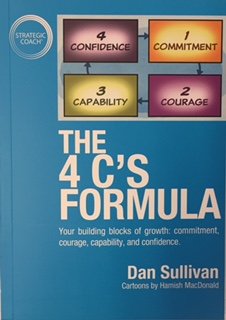 I love reading. I was reflecting on my favourite non-fiction reads of 2016 and came up with the following list:
The 4 C's Formula – Dan Sullivan of Strategic Coach
I could go on all day about Dan Sullivan. He's a gift. A brilliant thinker and coach to thousands of entrepreneurs.  I've known Dan for more than 15 years. He has been one of the biggest influences in my career and life path.
This book, The 4 C's Formula, addresses confidence.  We all assume that we have to be confident before we can take action. Wrong. Instead, Dan teaches that we have to start with a Commitment. Then comes Courage (warning – courage doesn't feel very good). Then we build Capability. And then we have Confidence.
This book is great for business – but an amazing resource for families and children.
You. Are. The.One – Kute Blackson
I received a copy of the book, You.Are.The.One., through my membership in the Genius Network. Kute Blackson is also a member. I started reading it and could not put it down.  It is powerful and positive and deeply human.  If you are in a stage of transition – or feel stuck – read this book. Warning: you will be booking a trip to Bali to experience one of his transformational courses.
Essentialism: The Disciplined Pursuit of Less – Greg McKeown
Doing too much? Feeling overwhelmed? I was.  But then I found out about Essentialism. And my mind was opened. Greg McKeown writes about essentialism as a breakthrough concept – and I had one. I cannot underscore enough how important it is to be disciplined about pursuing less. Freedom. I also watched the podcast of Greg with Michael Hyatt – highly recommend that too if you are so busy you can't even read the book. Shame – read the book.
Love Warrior – Glennon Doyle Melton
Love Warrior. I laughed and cried. Actually, I cried a lot.  It is deeply personal. Deeply moving.  Glennon Doyle Melton is an incredible writer and she is raw and vulnerable as she shares her memoir. As a professional married woman with young children, this book resonated with me about the masks we all wear.  Are you sending your "representative" out into the world? Or are you being authentically you?  She writes that when we are lost, overwhelmed and broken, all we have to do is "the next right thing". I have used that mantra hundreds of times in the last few months as I have set up this new business.
The Life Changing Magic of Tidying Up – Marie Kondo
Get ready to purge! But in a way you have never done before and for the last time.  I love The Life Changing Magic of Tidying Up. I am a virgo, so Marie Kondo's sensibility of order really appeals to me.  And earlier this year – I followed her methods. The result was special. Marie writes about holding every item you own to feel whether it "sparks joy". You know right away.  To be honest, my house is not perfect. But I have to tell you – it really changed my mindset about what I keep. If I don't love something – it goes.
Happy reading!