New swag! It dePENds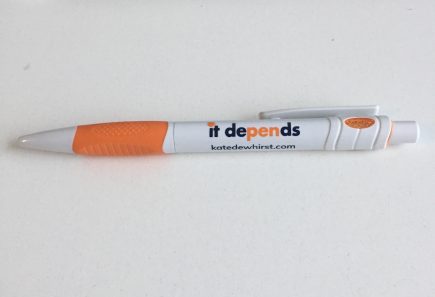 I was scrolling around on social media the other day and there was a challenge posed by Twitter:
"Pick two words from your bio. It's your next tattoo."
For me, that's easy to answer.
Anyone who has attended training with me knows my signature phrase, "it depends".
When my health care clients ask me questions, the answer is rarely "yes" or "no". There is almost always context to uncover, variables to identify, options to consider. That is the nature of health law. It depends.
By the way, I don't leave my students and clients aimless with uncertainty.  I help them understand what factors to consider when "it depends" to build their capacity for decision-making.
When we were considering our giveaway for the upcoming Association of Family Health Teams of Ontario conference this week, we had to incorporate my signature phrase. I am so excited about our new – it dePENds. If you are at AFHTO this week – come by the booth to get one!!