Health Privacy Officers, you need to see the Privacy Commissioner's new Process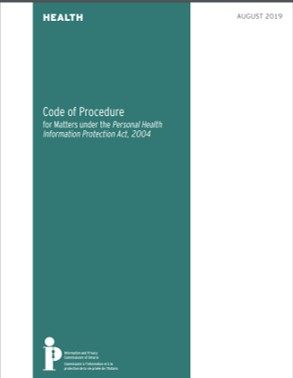 Hey Health Privacy Officers in Ontario – you need to know this!
The Information and Privacy Commissioner just released new guidelines on its internal procedures for health privacy:  The Code of Procedure for Matters under the Personal Health Information Protection Act, 2004.  It was updated August 2019.
Why does this matter to you as a Privacy Officer?  
Have you ever wondered what happens if someone complains about your privacy practices?
Would you like to know when the IPC might initiate an investigation into your privacy practices?
This document pulls back the curtain and explains how the IPC operates when it comes to its powers under PHIPA  and what you can expect.
It's not something you have to have memorized.  If you have interactions with the IPC (such as a complaint made against you) it helps you to know the rules the IPC follows in its interactions with you.
What's New?
The IPC's website does not spell out what has been updated from the previous version of the Code of Procedure.  So, I don't know.  But it doesn't really matter.  It's always good to know the most up-to-date rules that apply.