How to expand your experience of time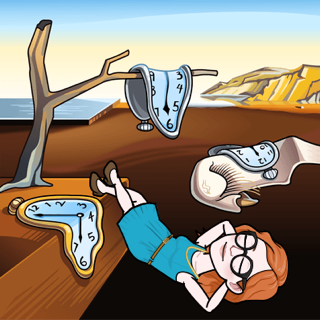 Hey lawyer friends!
It's time to talk about time again.
It's Summer. That means we have elongated days of sunshine and warm nights where we actually leave the office and the house to socialize.
Right now you may be open to hearing tips of how to expand your experience of time that you are absolutely going to need when December rolls around.
Time is a fickle friend to lawyers.
Time is sometimes kind to us.  It keeps us on deadline. It inspires us to get even more done.
Time is also a task master.
It taunts us to mark our lives in 6 minute increments.
It flies by – mocking us that we can only count 4.7 hours of billable units for spending 9 hours in the trenches.
It asks us to compare our output to others.  It measures our success or failure within firms.
It keeps track of the value of every activity we do in a day.  Time only comes in two flavours for lawyers; "billable" or "non-billable" which translates to "worth it" or "not worth it" for many of us.
When you are thinking about time – you may feel stuck in the realization there are only 24 hours in the day.
What if instead of focusing on time – you think about creating more space in your life and practice?  I know that has been a success recipe for joy and fulfillment in my own legal practice.
Advocate Daily recently interviewed me about my thoughts on time and my 5 tips for expanding your experience of it.
If you want to read an AMAZING book about time, I highly recommend Alan Lightman's book Einstein's Dreams.
Happy sunny days!