Resilience overload … let's be soft together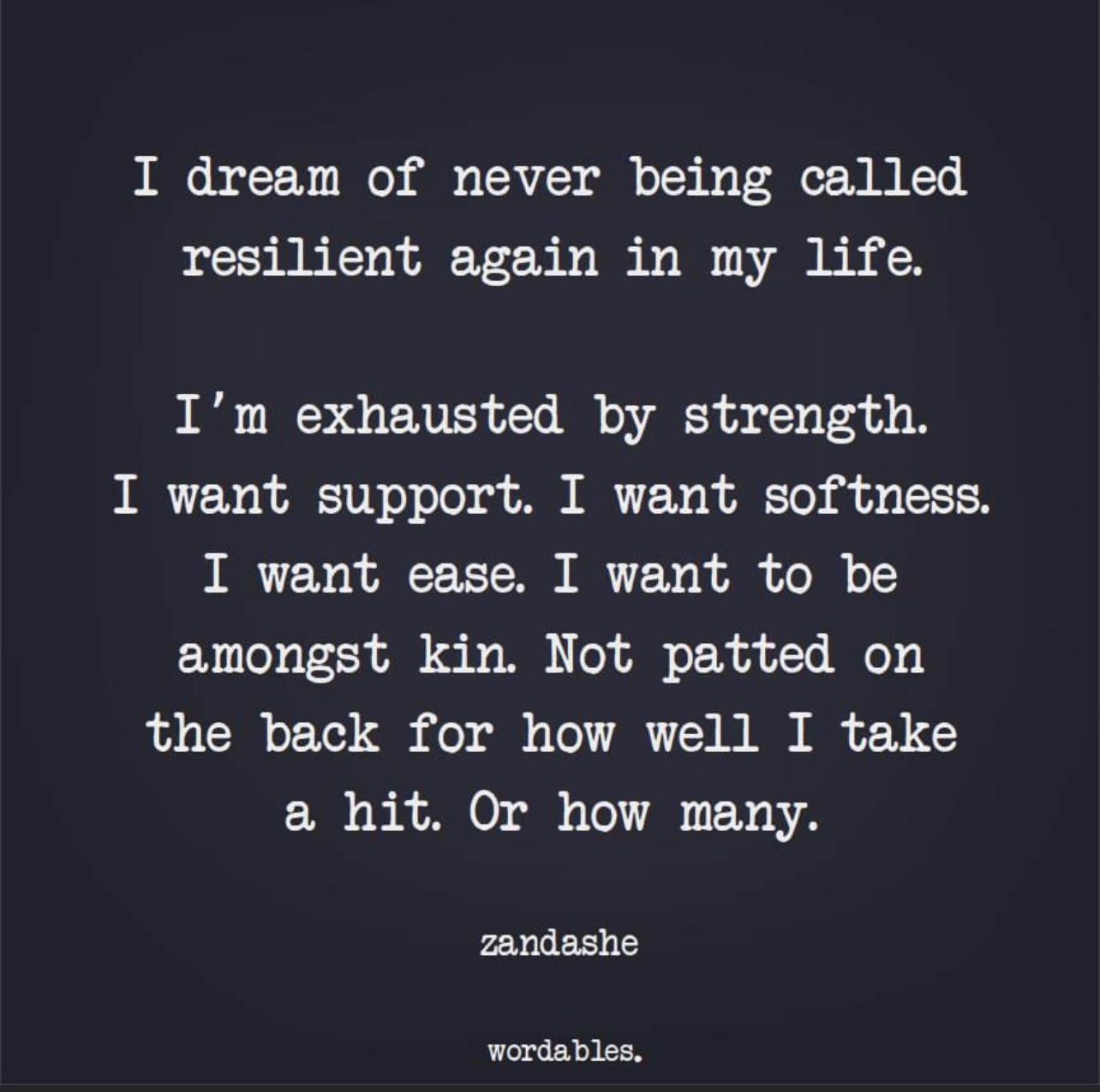 I saw this quote in social media and it spoke to me.
For all the strong, capable, resilient folks out there – continuing to lead – continuing to comfort everyone during this pandemic – I see you.
Last Thursday, Maria McDonald and I were scheduled to host a webinar for our Legal Issues for Primary Care Teams series on the Ontario Not-for-Profit Corporations Act. Tips and tricks for health care organizations to transition to the new law.
That is an important topic.  Transitioning to a new corporate law is a tangible thing that our clients need to do over the next few years.
And we didn't deliver that webinar.  (Although we did give the participants our written summary of what to do)
Instead, after asking our participants what they really wanted to hear about, we called in our friend, Christine Burych from Starlingbrook Leadership Consulting to do a session on mental health for leaders.
We had 150 leaders from primary care teams join us to talk about their own mental health and learn strategies for supporting their teams.
They told us that they are resilient and strong. They are putting one foot in front of the other.  They continue to find good stories, good days and growth opportunities in the pandemic.
And they crave comfort and support. 
They told us that leading has been lonely. 
There are a lot of health leaders who are the pillars of strength for their teams and in their own homes and for their aging parents and for their children and for their wider communities.  And they are tired.
They will keep going.
They will continue to innovate and deliver.
They know their privilege – that leading includes elements of control that are a privilege.
But they would like a rest.
I feel this too.
Many of the solutions discussed in the session with Christine related to connection and community.  Having friends and colleagues with whom burdens and worries can be shared.
Our call to action is to find soft communities.
We offer spaces for health leaders to find information and community (and even fun!)
Free: Ask me Anything about Health Privacy – a monthly program to keep you up-to-date about privacy
Free: This blog keeps health leaders apprised of new health law developments
The Shush – a paid community resource for Advanced Health Privacy Officers to share information and resources (we have a discussion thread with more than 500 topics!)
Primary Care Webinars – a paid community resource for leaders of primary care teams to learn about key employment and risk management resources
Coming Soon! The Qualify – for medical affairs leaders in hospitals to discuss their key issues managing Professional Staff and privileges
We believe that people thrive in community.  You are not alone.